Benefits of Water During Pregnancy
Everyone knows that drinking water is an important part of maintaining good health.  It's even more important to drink enough water when you are pregnant.  Your body uses water to supply your cells, tissues, and organs with oxygen and nutrients.  It's critical to maintain proper hydration when you are pregnant. This ensures that your body and your growing baby's can get the essential nutrients that they need. Not only does plenty of water help maintain the level of amniotic fluid, it also keeps the kidney's functioning properly.
Drinking water can help with some of the less pleasant parts of pregnancy, including the aches and pains.  You may be able to alleviate dizziness, cramping, and headaches caused by dehydration by increasing your water intake. Even morning sickness, heartburn, and constipation can be helped by sipping some extra water throughout the day.  Feeling a little bloated?  Even though it may seem counterintuitive, drinking water can reduce water retention that causes swelling.  During the third trimester, you'll want to be especially careful to stay hydrated as dehydration can contribute to preterm labor.
How Much Water Do You Need When You Are Pregnant?
So, just how much water do you need now that you're drinking for two, or more in some cases?  You need enough water to keep yourself hydrated and to keep your baby healthy. The Institute of Medicine suggests drinking ten 8-ounce cups of water or other fluids per day while you are pregnant.   Keep in mind that this is only a guideline. The amount of water you need depends on your body size and type, as well as how active you are.  A simple way to check your hydration levels is to look at the color of your urine – dark yellow means you need more water, pale yellow or colorless means you're hydrated.  If you aren't sure if you're getting enough water, it's best to check with your doctor.
Track Your Drinking
The easiest way to make sure you're getting enough water throughout your pregnancy is to use a water bottle to help keep track of how much you're drinking.  It's best to drink small amounts throughout the day instead of trying to drink large amounts once or twice a day.  Sipping water throughout the day can be especially helpful if you're having stomach issues.  There are some great water bottle options that are designed especially for pregnant women to help you keep track of exactly how much water you're drinking during the day.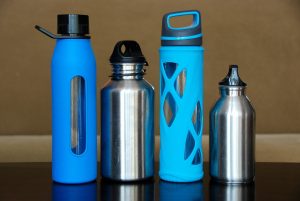 The Five Best Water Bottle When You're Pregnant
The Importance of Clean Water
No matter what bottle you choose to help make drinking your 80 ounces of water more fun, it's important to make sure you are drinking clean, safe water.  Whether your water comes from a public water supply or a private well, you should test the quality on a regular basis.  TestAssured offers a variety of testing kits and test strips so you can know exactly what you're drinking.  The Complete Water Analysis Kit is our most inclusive kit, that allows you to test for a variety of contaminants.  Whether you're pregnant or nursing, you're drinking for two.  Use our water testing supplies to make sure your water is safe.